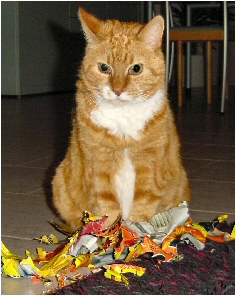 this is Jitse
male, April 4 1989 - August 1 2007

Jitse hated intrusions, especially in the form of paper being shoved through the mailbox.
The postman often complained about being attacked (quite interesting reading material actually), so we tried to keep Jitse inside until the mail had arrived and we put up a sign to warn people.
But even from inside Jitse could be very dangerous and we had to put up a second sign on the mailbox saying "mind your fingers!" . And even if we did get mail, we often find it completely torn up (as in this picture).
As he grew older, he mellowed down, and in his last years he was a very affectionate cat. Jitse reached the age of 18. We loved him dearly, and will miss him very much.